Crieff Cowches and Scotland's Charity Air Ambulance (SCAA).

Grimsthorpe and Drummond Castle Trust are delighted to have sponsored the cowch 'Moodnight Meadow' helping to fund raise for Scotland's Charity Air Ambulance (SCAA).
A pair of Crieff cowches moove home to a new art-trail on the banks of Loch Earn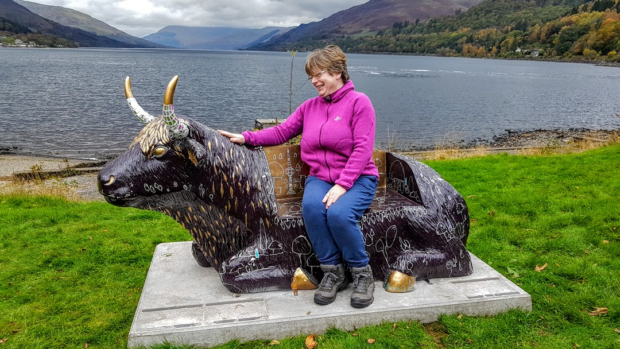 A pair of Crieff cowches have mooved to a new art trail along the banks of Loch Earn after being auctioned off to raise money for Scotland's Charity Air Ambulance (SCAA).
The cowches, On Watch and Moodnight Meadow, were snapped up by Loch Earn Tourism Information (LETi) for the BLiSS trail which stretches from St Fillans to Balquhidder.
Moodnight Meadow, by Perthshire ceramic artist Ceri White, will be located on a new paddock in St Fillans overlooking Loch Earn opposite The Four Seasons Hotel.
Visitors may recognise some of the scenes on Moodnight Meadow, as Ceri used the distinctive topiary of Perthshire's Drummond Castle Gardens for inspiration.
On Watch by Chelsea Rodger has been placed outside the Lochearnhead Village Hall.
Kim Proven, LETi chairwoman, said: "We are delighted with our bid result.
"Not just for our community contribution towards the £24,900 total raised for Air Ambulance and not just to enhance the BLiSS trail story but for the collective ownership and sense of achievement by a community working together towards a common goal.
"It shows what can be done.
"A huge thank you to everyone who supported this and hats off to Crieff Succeeds for an innovative and exciting summer campaign culminating in a generous donation to a charity much valued by rural communities."
LETi collaborated with Loch Earn residents and community groups to fund a collective bid for the BLiSS trail in advance of the auction at Crieff Hydro on October 9.
SCAA thanked the bidders of the cowches for helping to raise money to fund the charity.
Nick Harvey, SCAA's director of fundraising and communications, said: "We're really heartened and grateful to companies, groups and organisations everywhere for supporting our aeromedical retrieval service.
"SCAA is the people's helicopter, and having the support of so many is humbling, we can't thank the community enough for their unwavering support of this life-saving service."
BLiSS is the second art trail the two cowches have called home after being stationed in Crieff over the summer as part of a temporary instillation designed to attract tourists to the Perthshire town.
Eleven of the life-sized Highland cow benches were dotted around the Strathearn town attracting thousands of visitors to the area.